Town Court
Town Hall Appointments
Town Hall is open to serve residents only by appointment at this time. Please call (518)756-6671 to make an appointment. Extension numbers are listed for each department. Town Board meetings are open to the public with the number of attendees limited to 12.
Welcome to the Town of New Baltimore!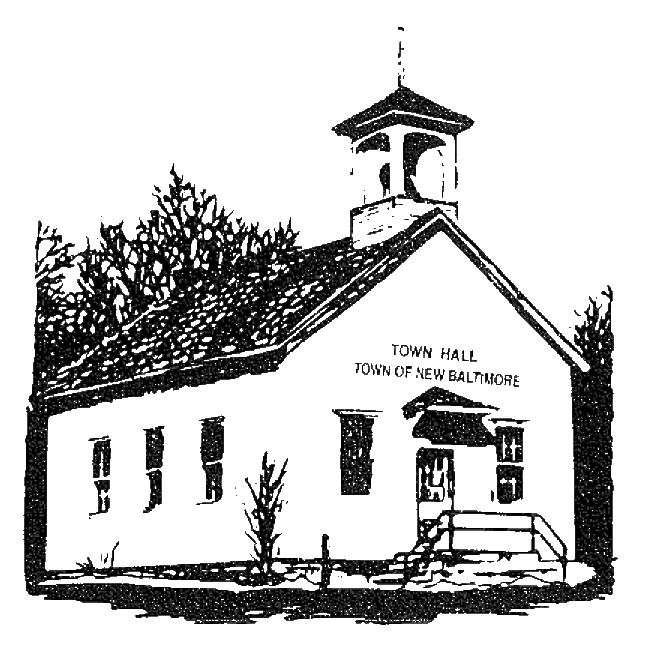 The Town Hall is located on County Route 51, approximately 1 mile west of Route 9W. The Town Clerk's Office is located at the Town Hall. Certified copies of birth/death certificates, copies of zoning laws and ordinances, hunting and fishing licenses, and dog licenses are available at the Clerk's Office.
The Town Board holds its regular monthly meeting on the 2nd Monday and a work session on the 4th Monday. These meetings begin at 7:00 pm, are held at the Town Hall, and are open to the public.
The Planning Board meets on the second Thursday of the month.
The Governor issued an Executive Order requiring that everyone must have a mask or fabric covering of their mouth and nose if "social" distancing cannot be followed effective Friday, April 17. Examples include public transportation, grocery stores, busy streets, etc.
Effective June 4, 2020 Town Hall has entered Phase Two and will reopen Monday-Friday from 9AM-4PM. Please do not enter if you are not feeling well; Wear a facial covering or mask; Maintain social distancing; Limit to only 1 person in your party entering; Limit of 2 people in Town Hall at one time -- If more than 2, please wait outside and enter when someone leaves the building; Use hand sanitizer. Please call (518)756-6671 if you would like to speak with Town Hall staff. Payments can also be mailed to 3809 County Route 51, Hannacroix, NY 12087. Please be well and we miss you too!
Town Offices
3809 County Route 51
Hannacroix, NY 12087
Phone: (518) 756-6671
Ext. 2: Tax Collector, Diane Jordan
Ext. 5: Town Clerk, Barb Finke
Ext. 6: Zoning/Planning/Building, Allan Jourdin & Marjorie Loux
Ext. 7: Town Supervisor, Jeff Ruso
Ext. 8: Assessor, Justin Maxwell
Fax: (518) 756-8880
Highway Superintendent
Phone: (518) 756-2078
Fax: (518) 756-3078
Town Court
Phone: 518.756.2079
Justices Huff and Melewski, Kimberly Ruby/Lynne Layman-Wallace
Greene County Sheriff
Phone: (518) 756-3300
Town of New Baltimore News
DEC Adopts New Regulations for Deer and Bear Hunting
Seeking Applications for Full-Time Highway Department Heavy Motor Equipment Operator
Seeking Applications for Full-Time Deputy Town Clerk
ZBA MEETING 8/4/21 CANCELLED
Deputy Town Clerk Position Available